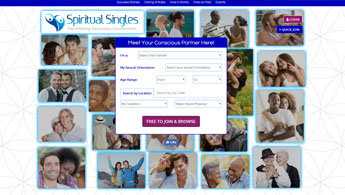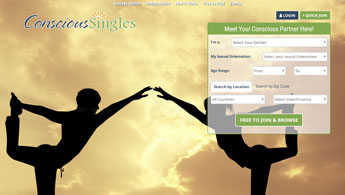 Spiritual/Conscious Dating Sites
The Conscious Dating Network (CDN) was created in 1998 and launched in 2000 with our flagship site, SpiritualSingles.com.
Since then, Spiritual Singles has grown to be the largest exclusively conscious/spiritual dating site on the Internet with a large database of members from all over the world and has evolved into the Conscious Dating Network (CDN). We have several spiritual/conscious/green dating sites that all share the same, large database of members.
ConsciousSingles.com is our other main conscious/spiritual niche site (again, it shares the same database, so no need to join more than one site in our Network. It's like getting multiple memberships when you join any of our dating sites.) Conscious Singles was originally a competitor's site and was also launched around the same time as Spiritual Singles. The previous owner passed away many years ago after joining the Conscious Dating Network as a privately labeled site (see below). CDN now owns and markets Conscious Singles and has for many years.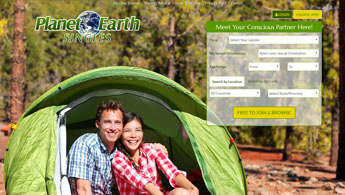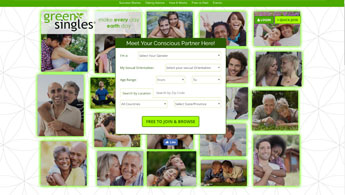 Environmentally Conscious
Dating Sites
In 2006, we launched a sister site, PlanetEarthSingles.com specifically for environmentally-conscious, green singles, as we saw a need to cover this niche, which dovetails and compliments the conscious/spiritual niche so well.
All of our dating sites, including our "green" sites share the same, large database of members, and members only need to join one site to have access to all members from all sites.
GreenSingles.com was one of the first dating sites on the Internet, originally launched in 1996 and was a competitor of Planet Earth Singles for many years. In 2014 the previous owners were ready to retire and wanted their "baby" to be adopted by a company that would take great care of their members. They choose to generously gift the Conscious Dating Network with their members, domain and trademark. In September of 2014 we imported the Green Singles members into our platform, and since then Green Singles has grown tremendously and has been a wonderful addition to our network of dating sites.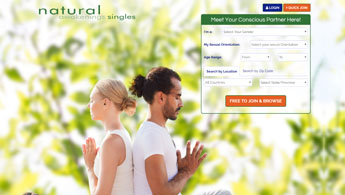 Privately Labeled Dating Sites
Conscious Dating Network offers Privately Labeled Dating Sites to those that would like to market a spiritual/conscious or green dating site, without the high cost of owning and operating a successful dating site. By being part of our large network, members or privately labeled sites (PLS) have access to all members on all of our sites in the Conscious Dating Network, which is a huge advantage over starting from scratch, with no members.
We feel it's a most beneficial win/win experience to work together, rather than compete, and our conversion rate (free joins to paid subscribers) is higher than most pay-model dating sites (27% average, across all of our sites), which is great confirmation that our system works well and that members are happy!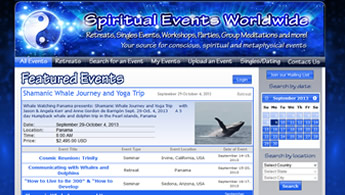 Events/Retreats
In addition to our dating sites, we also offer two International Spiritual Events sites. We discovered a need to market spiritual/ conscious/green events, retreats, classes, workshops, gatherings, expos and summits, hence, created SpiritualEvents.com and ConsciousEvents.com.
People from all over the world use these sites to promote their events.